The Beautiful Mountain Bike Trails in Lake Tahoe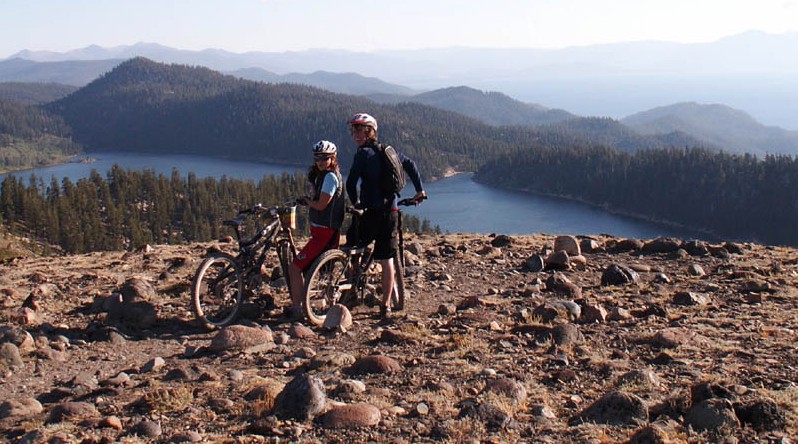 As a 23 year local to North Lake Tahoe, I am often asked about my personal favorites or recommendations for the following: ski areas, riding and hiking trails, beaches, restaurants etc. My obsession these days is mountain bike riding, so I'll let you in on some of my fav's…
First, Lake Tahoe has a developed trail system second-to-none, and virtually all of the trails are open to mountain bikes. Topping my list in North Lake Tahoe the Rim Trail out of Tahoe City or the Stanford Rock trail also out of Tahoe City just 2 miles down the West Shore. Stanford Rock is one of the more significant climbing trails in the Tahoe Basin. To reach the top you pedal up hill for seven miles and gain 2400' in elevation. The views from the top are definitely worth the grind, they reach from Lake Tahoe to the untouched back basin of Alpine Meadows. You definitely earn your Wheaties on this ride and the bonus is that Sunnyside Resort is right near where you finish – best fish tacos and beer around!
Incline Village, appropriately named because virtually nothing is flat except the famous Flume Trail, but you have to climb to get there. My favorite way to ride the Flume is to ride it as part of the Marlette Loop ride. Starting at the Marlette Lake camp ground, you ride a stiff five mile climb to Marlette Lake and then climb again picking up a portion of the Rim Trail that runs along the ridge above Marlette Lake. From the top of the ridge you can see clear around the lake from Tahoe City to Incline Village to South Lake Tahoe – beyond panoramic and beyond spectacular. Dropping down to Tunnel Creek you can pick up the west end of the Flume and loop back to the beginning.
Just outside of Truckee heading up Donner Pass is another must do and all-time favorite, Hole in the Ground. It is a 15 mile loop that has an incredible mix of terrain from single track hobbit trails zig-zagging through forest to granite slab. It passes through beautiful high elevation terrain 2000 feet above the town of Truckee. On a big snow year it's one of the last trails to melt off enough to ride, but this year it should be great early summer – have fun!