Carson City Movers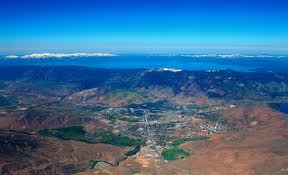 Are you moving to Carson City, Nevada? We are the best Carson City movers you can find. The city is named after explorer, scout, and trapper, Kit Carson and is the capital of the state of Nevada. It is located approximately 30 miles south of Reno. The official name for the city is the Consolidated Municipality of Carson City and its borders extend west across the Sierra Nevada to the state line of California which happens to be in the middle of Lake Tahoe.
Count on the movers at Owens Brothers Transfer 
Expert packing and unpacking
Trained staff
Fast and friendly service
Crating as needed
Boxes and supplies
Always on-time pickup and delivery
Storage in our local warehouse
Extra large moving specialists
A+ review from Better Business Bureau
Enjoy the history of Carson City
Moving to Carson City will have you learning about its abundant history. Once a place where emigrants stayed on their way to California, the discovery of silver in the mountains northeast of the city changed things. The Comstock Lode, as the silver mining area was named, placed Carson City on the map and it has been Nevada's capital since 1864.
In 1843 John C. Fremont was the first to venture into the area known as Eagle Valley. Led by scout Kit Carson, Fremont named the river in the valley in his honor. The Eagle Station trading post was established in 1851 along the river. In 1858, Abraham Curry bought the Station and began the serious development of the city with the intention of having it as the state capital. At the time it was part of the Utah Territory governed by Salt Lake City.
The city and surrounding area was served by the Virginia & Truckee Railroad that was built to service the Comstock Lode mine to haul supplies, ore, and lumber. It once ran from Reno to Carson City and with two branches went south to Minden and east to Virginia City. In 1950 it was abandoned and most of the railway was removed, however during the 1970s rail enthusiasts rebuilt some of it and today it is privately owned and operates as a heritage railroad out of Virginia City.
No matter why you are moving to, from or within Carson City, Owens Brothers Transfer will support you throughout your move. Our Carson City movers do local, long distance, and commercial moves and can offer you packing services and storage with free quotes and you are under no obligation.
Today most of the people live in the Eagle Valley area and there are all of the required city services available, such as police, fire, and a school district operating 10 schools, including six elementary schools, two middle schools, two high schools, and the Western Nevada College.
Owens Brothers Transfer offers a premium experience whether you are moving to Carson City or moving within the city.
Moving to Carson City? Call for a free quote. (775) 888-9955
Owens Brothers Transfer services the following areas around Lake Tahoe
Tahoe City | Truckee | South Lake Tahoe | Incline Village | Reno