Follow your inclination to Incline Village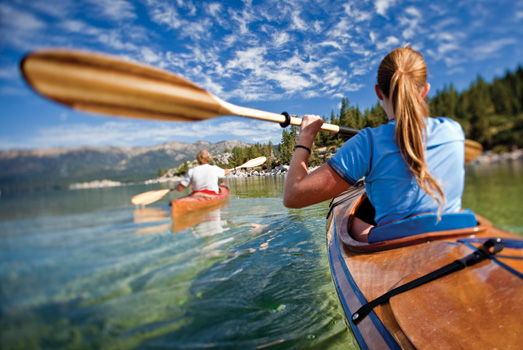 Reasons why you'll be inclined to call this charming Tahoe resort town home
Nestled on the north side of Lake Tahoe, Incline Village is home to a small but tight knit community who know they've found a true paradise on Earth. Here are some of the major reasons why you should consider joining the Incline Village residents' club – let's just say, follow your inclination…
Lake Tahoe, Lake Tahoe, Lake Tahoe
When it comes to resort living in the continental 50 states, there are few places more desirable than the area of north of Lake Tahoe. With four beautiful seasons to enjoy every activity under the sun, the snow, and the starlit sky, you won't ever want to leave your new hometown. Incline Village offers the best of Lake Tahoe: skiing, sailing, kayaking, golfing, tennis, fine dining, theatre, and so much more. Every morning you wake up in your new Incline Village home, you'll want to pinch yourself. The fresh air and magnificent beauty of your surroundings will invigorate you to enjoy every second of your new life!
Small town feel, big town amenities
Incline Village offers the very best in shopping and recreation – you'll find you rarely need to leave. But unlike the hustle of other larger communities with the same level of retail and consumer offerings, Incline Village retains its small town charm. You'll find that in Incline Village, people know your name. They probably will know your children's names and your pet's name too. Whether stopping for a cup of coffee, taking a stroll on the beach, or soaking up one of Incline Village's cultural events and festivals, you'll know you're finally home.
Great schools
Whether you have school-age children or not, it's no secret that great schools are the key to a thriving community and property value retention and appreciation. The Incline Village School system is small and prestigious. With student-teacher ratios of 18:1, Incline Village schools regularly produce a roster of honor graduates. And since you're never too old to stop learning, you'll want to take advantage of Incline Village's continuing education classes, and local liberal arts powerhouse Sierra Nevada College.
There's no time like the present
If you're considering a move to Incline Village, there's never been a better time to visit. Or, start planning your move to Incline Village today! Check out real estate options, and learn about movers who know the area well, and can help you plan a stress-free relocation to the home of your dreams in Incline Village.