A 1,200lb Dolphin at Lake Tahoe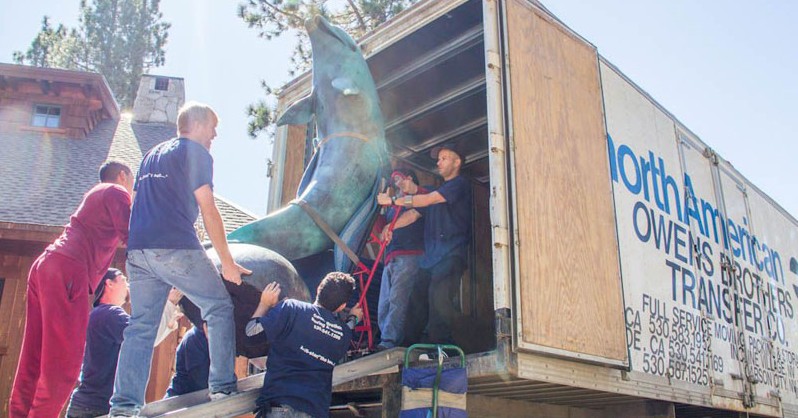 Recently my 15 year old son and I were dropping off boxes to a clients home who was moving from Truckee to Incline Village. My son commented on what beautiful artwork they had, so we were treated to a full tour of the home before everything was packed up. We started at the garage and as we were about to leave through the front door we look up to see a beautiful, life size dolphin sculpture on a pedestal. We were told that it was all metal and weighed a whopping 1,200 pound. At first we were in awe and then in fear!
Out of earshot I immediately called Frank our resident moving-guru. Frank has been working with Owens Brothers for 31 years and is a true veteran and expert in the moving business and in particular moving in Lake Tahoe/Truckee. I asked Frank, "How, on earth, are we going to get an 10 foot tall, 1200 pound dolphin through an 8 foot door and up a ramp onto a moving truck?" With his usual calm, confidence he replied, "Easy, we will use 'big red' (our largest dolly), and manpower. Don't worry, we've got this, no problem."
On the day of the move, a beautiful blue Lake Tahoe day, my crew showed up ready and up to task at hand. I watched as seven men worked as one. They communicated with each other and moved that dolphin in a perfectly coordinated effort from the load onto the truck in Truckee to the unload in Incline Village. All done without a whine or a scratch!